Today's tech-driven world is awash in innovative services, products, business models, technologies, and solutions. These offerings are brought to market and commercialized to generate desired profits. However, innovation alone can't sustain a business; it needs to be paired with marketing.
Marketing is all about connecting the right audience with the right service/products. Therefore, CMOs (Chief Marketing Officers) are essential for managing the marketing department and leading the marketing strategy to ensure the business's massive growth.
What is CMO as a service?
CMO as a service assists organizations in allocating, developing, and executing their marketing strategies as efficiently as possible to minimize expenses, save time, and meet their objectives. Utilizing tools like data analytics, these services first assess the company's position in the market. The strategy they devise is what will drive the business to strengthen its position.
Additionally, they ensure that the marketing strategy is applied correctly, and if discrepancies are found, they make the required adjustments. High-quality CMO services result in increased brand recognition, awareness, and identity, ultimately leading to skyrocketed sales.
According to the 
annual CMO survey 29th edition
, marketing expenditures increased by 10.3% in the 12 months up to September 2022, which is the fastest pace of growth in more than ten years. Therefore, now many small to mid-sized businesses can't afford CMOs' salaries. Now they require fractional CMO services.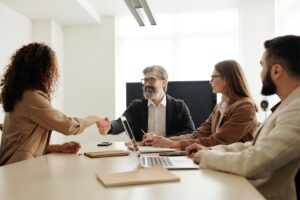 What exactly is it – Fractional CMO Explained
A marketing executive that helps businesses with company growth, sales development, and customer acquisition for a few hours every week or on a contractual basis are known as a fractional CMO. A fractional CMO brings expert strategy and experienced leadership to help accelerate strategic objectives and reach top-level profitability regardless of services/products you're marketing at a fraction of the conventional cost of recruiting a full-time CMO for your business.
Benefits of hiring fractional CMO services
Knowledge
The first benefit of hiring fractional CMO services is their knowledge which will give your team the right direction, especially when you're struggling to make a leap and grow. For instance, every successful sports team has a single common thing: strategy. They have a playbook for every situation, saying, "Do this when that happens." Their coach steps outside the game and observes what's actually happening, and comes up with a strategy to meet the prime objective. Businesses are no different. Without the right strategy, your firm is probably doing multiple things. You might be running in different directions, forcing your business not to move at all. That's where a fractional CMO comes in with a plan to scale up your business.
Expertise
A fractional CMO provides expertise, data, and resources you might not acquire by yourself. These professionals have handled many businesses and have seen many hurdles and successes. Companies that hire CMO as a service see a massive increase in revenue and profits. Moreover, their expertise and guidance make it easier for businesses to decide which technologies and tools are worth investing money and time into. 
You can optimize budgets
The next prominent benefit of getting CMO as a service is you can effectively optimize your budgets. This means you don't have to invest heavily in recruiting a full-time CMO, which comes with an involved employment commitment and added cost of health benefits.
In case a fractional CMO doesn't work well, you can replace them without any loss to the company assets. This also allows you to allocate money for other things like hiring a new specialist you need in the marketing department or any tools and technology.
Provide immediate impact
A fractional CMO has a wealth of knowledge they have accumulated over their professional life, which means they step into the organization and have an instant impact. Firstly, they optimize the strategy, and after focusing on business objectives, they tweak or entirely rewrite the existing processes, giving the best possible opportunities for smashing the targets. Secondly, they refine the processes to make a significant possible impact within the specified budget constraints. Finally, they have a vast network and a pool of connections that your business will now benefit from. You'll get all the added privileges they get for being credible.
Enhance internal communication
Effective communication between teams and employees is vital for business success. It increases productivity and maximizes processes' efficiency. Being in a lead position, a fractional CMO stays transparent, delegate the teams, and better communicates with them. Their leadership qualities improve internal communications and with customers to achieve desired results.
Besides that, being a business owner, it isn't easy to handle multiple critical positions in the company. Only a formalized management system gives company founders/CEOs free time to do what they do best – focusing on the future vision for their brand. Therefore, a fractional CMO can help expand the marketing team and provide an outside perspective when managing major business decisions. They create a successful marketing plan that can be implemented across various channels like social media, emails, or blogs. 
What does a fractional CMO do for your business?
Analyze the internal processes
At this stage, a fractional CMO conducts a 360 review of everything that has been done. Once they analyze all the marketing tactics you're applying, they thoroughly assess what is working correctly, what has failed, and which steps should be taken to get closer to success.
Create a solid plan of attack
Next, they devise a plan for the company to move forward and maximize the ROI of the marketing efforts. This plan is scalable to meet the short and long-term business objectives. 
Measure the marketing ROI
A plan and marketing review a fractional CMO provides is only as good as the return on investment it produces. To measure the ROI, they create metrics to track and analyze how their strategy is working, how much brand awareness it's driving, how many customers are actually converting, and how much return the business is precisely getting on the dollars spent.
How to effectively utilize fractional CMO services?
Undoubtedly, getting a fractional CMO on your reliable troop will add marketing guidance and a discerning approach to your thriving company. By making use of the right tactics, you can effectively utilize fractional CMO services.
For instance, it's crucial to identify the determined and capable employees and align their objectives to that of a fractional CMO. This will allow your employees to learn and gain experience from a proficient C-level executive. This will shape both the forte of the management bench and the marketing lineup.
Furthermore, ensure that the recruited fractional CMO strengthens the personnel within the principles and standards of your company's ethos. Besides, you must install an essence for prosperity if you're considering hiring a fractional CMO, as it will guarantee that your choice for employing them is undeniably smart.
What's not included in fractional CMO services?
A fractional CMO probably won't write and sends an email to the list. They don't schedule social media posts or upload blog posts. They are not responsible for redesigning button colors on multiple landing pages. A fractional CMO must not be used as a grunt worker or lever puller. They're responsible for taking care of the overall business's marketing, and the time and money will probably be wasted if you get them too deep into the weeds.
Signs your firm needs a fractional CMO
You can't hire a full-time CMO but lack executive marketing insights
If you need marketing leadership but there's not sufficient budget to justify full-time recruitment, or you need valuable insights to shake up marketing efforts, it's high time to utilize fractional CMO services. A fractional CMO is an affordable option, and they're not confined to the status quo of the business and have extensive experiences gathered from other clients. 
You're dealing with financial uncertainty
Financial uncertainty and tight budgets are usual for any new or growing business. When you're facing budget constraints and the need to bring money in the door grows, the first instinct is to curb spending and tighten the business belt. In terms of marketing, investing less when acquiring new clients and sales is necessary isn't an option. Instead, you must up your marketing efforts by getting a fractional CMO onboard. They can help your organization get the most from marketing when your financial future is uncertain.
Their prime goal is not to spend less but to become more efficient with the spending on all the business's aspects. 
If you're struggling to stretch inadequate marketing resources
Even if you have a sunny financial outlook and a healthy budget, you will still have financial resources you can delegate to marketing. Every marketing decision you make eats up some of the overall marketing budgets. Thus, hiring a fractional CMO can be a massive boon for a business that needs to make the most of every penny spent on marketing. Your marketing can be much more effective and robust if you reinvest the money in other areas saved from the marketing executive's salary. For instance, that money can help beef up the teams to deliver experiential or guerilla marketing, or it can be directed to more extensive email campaigns or to enhance local SEO.
You're facing leadership challenges
If you haven't had a head of marketing or recently lost one, there are good chances that your message will seem weak and confused. Whether you require a stronger sense of direction to get the business on the right path or you need to fill this leadership gap, a fractional CMO can act as an advisor and give truly objective insight. 
Your business requires a fresh perspective
Marketing initiatives and plans are dynamic things. Just because the marketing plan was killing it for the past five years does not guarantee it'll continuously deliver the same results in the next 5 years. The same marketing eventually becomes ineffective with time. That's why a fractional CMO is what you need to get a unique outsider perspective by evaluating the marketing in a new light. Furthermore, a fractional CMO's feedback is always less encumbered by internal relationships, politics, and considerations. Their feedback is more blunt and realistic because they do not own the original plans and don't have any agenda within the organization.
While these aren't the only situations when getting the fractional CMO as a service is critical, they are among the most prevalent scenarios.
What to consider before hiring a fractional CMO as a service
When talking about marketing, there isn't one size fits all solution. Today's companies reside in a highly competitive business milieu that's dependent on getting an immediate result on every business decision they make. Thus, implementing a compelling marketing approach is critical. Whether your business has gained some position in the market or you're just starting, creating a marketing strategy on your own is ambiguous.
Hiring a complete marketing team may not be the right solution in such a situation. Instead, employing a fractional CMO is the best choice. At this point, you may also require to lessen the new personnel acquisition to prevent further expenditures, as your primary focus should be on marketing to yield more revenue.
Now, the first thing you must consider before hiring a fractional CMO as a service is to determine if they have a proven track record of providing successful strategies to businesses. Whether it's strengthening the business's value proposition, acquiring customers, or improving engagement on social media, ask about their past experience proving their approach has been put into practice.
The next thing is to determine if their decision-making is data-driven. If they use data to deliver results, they can strengthen the North Star metric and help you understand the investment tradeoffs they recommend.
Moreover, also examine if they see around corners. The best fractional CMO thinks two steps ahead, ensuring that they're delivering the outcomes needed at the moment while setting the company up for future growth. For instance, when it comes to value proposition development, they focus on articulation that helps you win a greater share of the wallet with an expanded offering over time. When talking about performance marketing, they continually test new platforms and campaigns to qualify the following growth horizon. 
Additionally, assess if their expertise, knowledge, and skills span the marketing mix. Successful fractional CMOs grow businesses using elements of the marketing mix pertinent to your business rather than ones they're most comfortable with. Therefore, select the fractional CMO with experience in brand building and growing startups, through social media and Google Ad campaigns, to PR, design, and SEO. They must understand how to add the right marketing tactics into a recipe that's right for you.
Lastly, hire a fractional CMO who wants to help strengthen your company's internal capabilities by building systems and mentoring your teams. 
WRAPPING UP ALL TOGETHER
If you've made it to the end, you now know all about fractional CMO services, including top tips and tricks to select the best fractional CMO as a service for your business.
Moreover, your fractional CMO must be able to:
Develop a deep understanding of your competitors, customers, and market dynamics

Establish a robust marketing plan

Drive positioning that's "compelling, distinct, and true"

Strengthen your brand image

Optimize your online presence

Deploy account-based marketing, SEO, PR, etc.

Prepare marketing materials that inform, inspire, and excite to convert qualified leads
If you're considering hiring one, 
Elite CMO Services
 has got you covered. We have a proficient fractional CMO with a trove of experience honed at multiple big companies, including Amazon.com, PayTechs, FinTechs, HealthTechs, Entrepreneurial Ventures, and Saas Startups. You'll get proficient fractional CMO services and will be guided through rapid growth periods. 
By combining robust marketing strategy development with complete execution, we leave you with only one responsibility – getting ready for massive growth!